Official Results for Brooks-Medicine Hat By-Election
November 18, 2022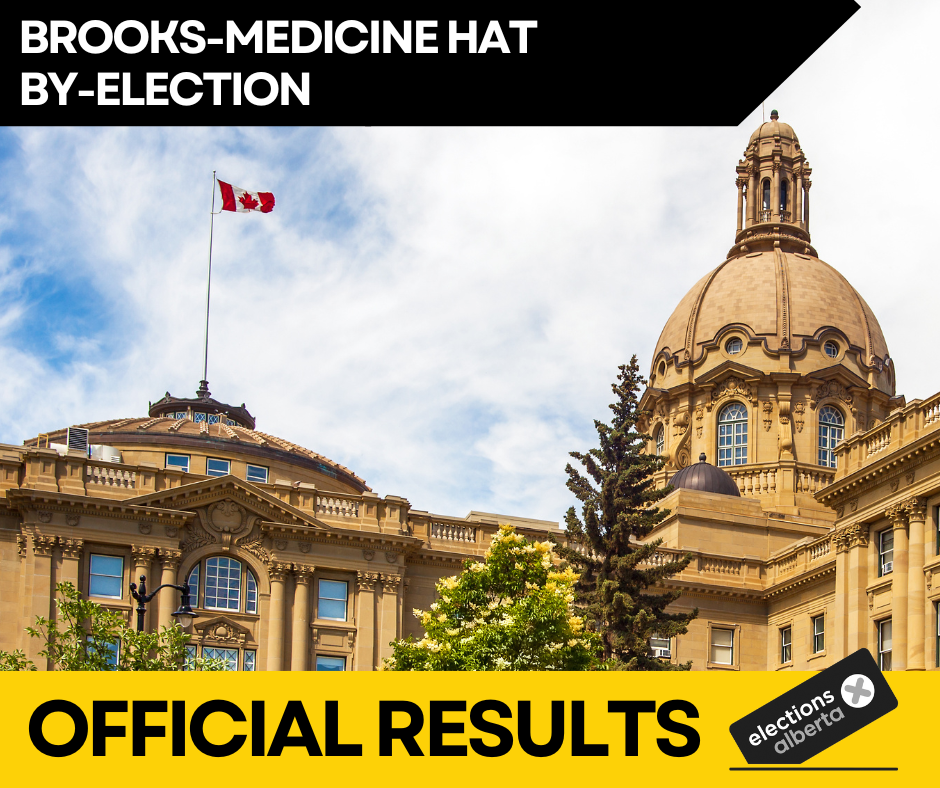 EDMONTON – Elections Alberta has announced the Official Results for the Brooks-Medicine Hat By-Election held on November 8, 2022.
Official Results are available on the Elections Alberta website, under "Election Results." Results include information on the number of ballots cast, number of electors on the list of electors, which includes new registrations, and poll-by-poll results for each candidate.
The successful candidate in the Brooks-Medicine Hat By-Election is Danielle Smith, representing the United Conservative Party.
The voter turnout in the Brooks-Medicine Hat By-Election was 35.5%. The following table provides the turnout figures for the By-Election as well as the comparative numbers from the 2019 Provincial General Election.
Brooks-Medicine Hat
2022 By-Election
2019 Provincial Election
Total Votes Cast
Includes valid, declined and rejected ballots
12,737
22,470
Registered Electors
35,872
34,257
Voter Turnout
35.5%
65.6%
Of the electors who voted, the following voting methods were used:
63.8% voted on Election Day (in-person voting on Tuesday, November 8).
33.2% voted in Advance (in-person voting between Tuesday, November 1, and Saturday, November 5).
0.8% voted by Special Ballot (voting in the returning office and voting by mail requests).
2.2% voted at a Mobile Poll (Election Day voting opportunities provided in hospitals, supportive living and long-term care facilities, homeless shelters and community support centres).
Elections Alberta is an independent, non-partisan office of the Legislative Assembly of Alberta responsible for administering provincial elections, by elections, and referenda.
For media inquiries, please contact:
Megan Narsing
Media and Communications Officer
Phone: 780.427.6698
Email: media@elections.ab.ca
Posted in: Press Releases