Voter Registration Opens For Provincial Election Plus, ID Requirements Made Easy
March 29, 2023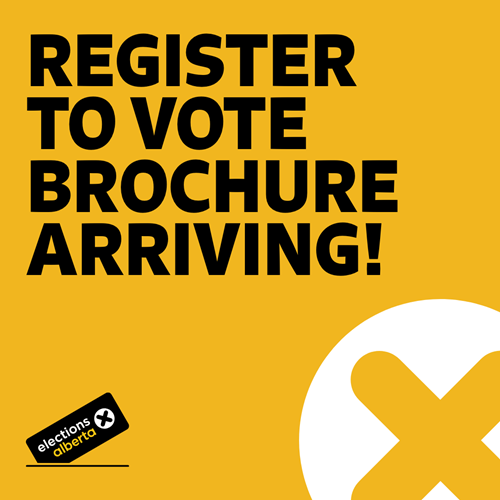 EDMONTON – Starting today, households across Alberta will begin receiving information in their mailboxes from Elections Alberta on registering to vote in the upcoming Provincial General Election.
Electors are encouraged to register or update their information at www.voterlink.ab.ca, or by calling the Provincial Contact Centre at 1 877 422 8683. The Contact Centre is available from 8:15 a.m. to 8:00 p.m. on weekdays and 10:00 a.m. to 4:00 p.m. on weekends.
Accessing Voterlink
Electors accessing the online registration system can retrieve their voter record by using the PIN and House / Access Number found on their Register to Vote letter or by using their Alberta Driver's Licence or Alberta Identification Card number.
Further instructions on how to register online are available on the Elections Alberta website. Electors that need support to register are encouraged to call the Contact Centre.
Why Register?
Registering to vote in advance of voting days makes the process faster and easier, and for electors with mailing addresses on their identification, registering with both their physical and mailing address expands their options for identification that can be accepted at the voting place.
All electors must be registered to vote at their current physical address before being issued a ballot. While this process can be completed at a voting place it does lengthen the time required to vote.
"Electors must be registered to vote to cast their ballot," says Pamela Renwick, Deputy Chief Electoral Officer. "Registration is already open and takes less than five minutes online. Doing it early is the best way to ensure an easy and efficient visit to the ballot box."
New Where to Vote Card Options
Where to Vote Cards are mailed to all households in Alberta prior to voting days. The card provides details on the closest advance voting stations and the household's assigned voting location on Election Day. New for this election, electors can now opt-in to receive their Where to Vote Card by email, ensuring they have it handy when they arrive at the voting place. Where to Vote Card selections can be made online during the registration process at www.voterlink.ab.ca or by calling the Provincial Contact Centre.
New Identification Requirements
All electors will be required to show ID to prove their identity and physical address whether they are voting in person, on Election Day, during advance voting, or voting by Special Ballot.
Four ways to do this include:
Showing your Alberta Driver's Licence or Identification Card.
Presenting two pieces of ID, both with your name and one showing your current physical address (i.e., a health card, an employee ID, or a utility bill).
Having someone in your voting area vouch for you.
Completing an attestation form.
Electors that have a PO box or other mailing address on their identification are encouraged to register to vote with both their physical and mailing address. Electors that are registered with both addresses will be able to use their identification with a mailing address when they vote. Electors that have not registered with their mailing address must bring identification to prove their physical address to register at a voting place.
For additional resources, visit our website:
Elections Alberta is an independent, non-partisan office of the Legislative Assembly of Alberta responsible for administering provincial elections, by elections, and referenda.
For more information, contact:
Robyn Bell
Communications Specialist
Phone: 780.427.7191
Email: media@elections.ab.ca
Posted in: Press Releases