2019 Provincial General Election Advance Poll Turnout
April 15, 2019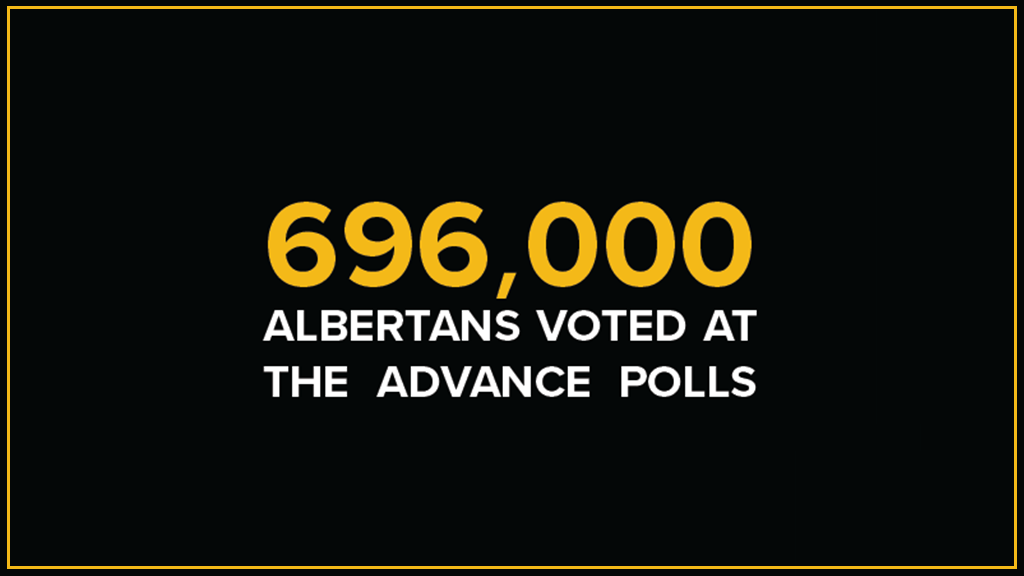 EDMONTON – Elections Alberta today announced unofficial voter turnout numbers for the advance polls that commenced on Tuesday, April 9th and ended on Saturday, April 13th, 2019.  Chief Electoral Officer, Glen Resler stated "The turnout at advance polls was record breaking, with almost triple the number of votes cast at the advance polls than in the 2015 general election.  With over 696,000 ballots cast province wide in five days, my appreciation goes out to all the election officers who worked tirelessly to provide so many accessible and convenient voting options for electors".
Over the five days of advance poll voting, electors had the ability to cast their ballot at any of the 268 advance poll locations held across the province.  The estimated total of ballots cast during the advance polls is 696,000.
Ballots cast by electors within their electoral division will be counted following the close of polls on Election Night in their respective electoral divisions.  Approximately 473,000 ballots were cast by electors in their electoral divisions.
Ballots cast by electors at locations outside their electoral divisions will be counted in the days following Election Day. Approximately 223,000 ballots were cast by electors outside of their electoral divisions.
Please reference the attached Backgrounder for a breakdown of the 'Vote Anywhere' ballots that will remain to be counted following Election Day.
Election Day
Tuesday, April 16, 2019 is Election Day.  Voting locations will be open from 9:00 a.m. to 8:00 p.m.  Electors must vote at their assigned location on Election Day.  Voters are reminded to bring their Where-to-Vote cards with them to the polls.  If electors are not registered to vote, identification is required to validate their name and address.
Election Day voting locations are printed on Where-to-Vote cards sent to all registered electors.  A complete list of Election Day voting locations is available at www.elections.ab.ca.
For more information about the provincial general election visit www.elections.ab.ca, call toll free at 1-877-422-VOTE (8683) during normal office hours, join us on Facebook or follow us on Twitter.
Elections Alberta is an independent non-partisan office of the Legislative Assembly responsible for administering provincial elections, by‑elections and referenda.
For media inquiries, please contact:
Pamela Renwick
Director, Operations and Communications
Suite 100, 11510 Kingsway Ave NW
Edmonton, Alberta T5G 2Y5
Pamela.Renwick@elections.ab.ca
780-427-7191
---
BACKGROUNDER:  Chief Electoral Officer:   "Advance Poll Voter Turnout"
Number of 'Vote Anywhere' Ballots cast by Electoral Division (all ballots to be counted centrally starting on April 17 at 1:00 p.m., and continuing daily until complete).
| Electoral Division | Vote Anywhere Ballots |
| --- | --- |
| 01   CALGARY-ACADIA | 4,537 |
| 02   CALGARY-BEDDINGTON | 5,015 |
| 03   CALGARY-BOW | 6,363 |
| 04   CALGARY-BUFFALO | 6,298 |
| 05   CALGARY-CROSS | 1,170 |
| 06   CALGARY-CURRIE | 3,212 |
| 07   CALGARY-EAST | 1,187 |
| 08   CALGARY-EDGEMONT | 2,031 |
| 09   CALGARY-ELBOW | 4,096 |
| 10   CALGARY-FALCONRIDGE | 1,714 |
| 11   CALGARY-FISH CREEK | 5,391 |
| 12   CALGARY-FOOTHILLS | 7,397 |
| 13   CALGARY-GLENMORE | 2,374 |
| 14   CALGARY-HAYS | 4,410 |
| 15   CALGARY-KLEIN | 2,479 |
| 16   CALGARY-LOUGHEED | 2,113 |
| 17   CALGARY-MCCALL | 951 |
| 18   CALGARY-MOUNTAIN VIEW | 5,300 |
| 19   CALGARY-NORTH | 4,925 |
| 20   CALGARY-NORTH EAST | 2,419 |
| 21   CALGARY-NORTH WEST | 4,429 |
| 22   CALGARY-PEIGAN | 3,566 |
| 23   CALGARY-SHAW | 5,316 |
| 24   CALGARY-SOUTH EAST | 4,592 |
| 25   CALGARY-VARSITY | 4,467 |
| 26   CALGARY-WEST | 2,302 |
| 27   EDMONTON-BEVERLY-CLAREVIEW | 1,797 |
| 28   EDMONTON-CASTLE DOWNS | 2,508 |
| 29   EDMONTON-CITY CENTRE | 5,257 |
| 30   EDMONTON-DECORE | 1,616 |
| 31   EDMONTON-ELLERSLIE | 1,736 |
| 32   EDMONTON-GLENORA | 1,626 |
| 33   EDMONTON-GOLD BAR | 1,185 |
| 34   EDMONTON-HIGHLANDS-NORWOOD | 2,171 |
| 35   EDMONTON-MANNING | 1,999 |
| 36   EDMONTON-MCCLUNG | 4,248 |
| 37   EDMONTON-MEADOWS | 1,699 |
| 38   EDMONTON-MILL WOODS | 2,898 |
| 39   EDMONTON-NORTH WEST | 2,797 |
| 40   EDMONTON-RIVERVIEW | 2,398 |
| 41   EDMONTON-RUTHERFORD | 3,360 |
| 42   EDMONTON-SOUTH | 3,228 |
| 43   EDMONTON-SOUTH WEST | 5,679 |
| 44   EDMONTON-STRATHCONA | 4,134 |
| 45   EDMONTON-WEST HENDAY | 3,969 |
| 46   EDMONTON-WHITEMUD | 1,583 |
| 47   AIRDRIE-COCHRANE | 1,977 |
| 48   AIRDRIE-EAST | 4,219 |
| 49   ATHABASCA-BARRHEAD-WESTLOCK | 1,283 |
| 50   BANFF-KANANASKIS | 2,607 |
| 51   BONNYVILLE-COLD LAKE-ST. PAUL | 492 |
| 52   BROOKS-MEDICINE HAT | 1,221 |
| 53   CAMROSE | 1,804 |
| 54   CARDSTON-SIKSIKA | 869 |
| 55   CENTRAL PEACE-NOTLEY | 489 |
| 56   CHESTERMERE-STRATHMORE | 2,316 |
| 57   CYPRESS-MEDICINE HAT | 926 |
| 58   DRAYTON VALLEY-DEVON | 2,241 |
| 59   DRUMHELLER-STETTLER | 563 |
| 60   FORT MCMURRAY-LAC LA BICHE | 940 |
| 61   FORT MCMURRAY-WOOD BUFFALO | 1,822 |
| 62   FORT SASKATCHEWAN-VEGREVILLE | 1,238 |
| 63   GRANDE PRAIRIE | 2,089 |
| 64   GRANDE PRAIRIE-WAPITI | 2,329 |
| 65   HIGHWOOD | 2,076 |
| 66   INNISFAIL-SYLVAN LAKE | 2,079 |
| 67   LAC STE. ANNE-PARKLAND | 3,274 |
| 68   LACOMBE-PONOKA | 1,002 |
| 69   LEDUC-BEAUMONT | 772 |
| 70   LESSER SLAVE LAKE | 209 |
| 71   LETHBRIDGE-EAST | 2,040 |
| 72   LETHBRIDGE-WEST | 1,751 |
| 73   LIVINGSTONE-MACLEOD | 781 |
| 74   MASKWACIS-WETASKIWIN | 2,777 |
| 75   MORINVILLE-ST. ALBERT | 3,405 |
| 76   OLDS-DIDSBURY-THREE HILLS | 1,645 |
| 77   PEACE RIVER | 350 |
| 78   RED DEER-NORTH | 819 |
| 79   RED DEER-SOUTH | 3,688 |
| 80   RIMBEY-ROCKY MOUNTAIN HOUSE-SUNDRE | 1,969 |
| 81   SHERWOOD PARK | 2,435 |
| 82   SPRUCE GROVE-STONY PLAIN | 927 |
| 83   ST. ALBERT | 1,182 |
| 84   STRATHCONA-SHERWOOD PARK | 3,967 |
| 85   TABER-WARNER | 1,091 |
| 86   VERMILION-LLOYDMINSTER-WAINWRIGHT | 943 |
| 87   WEST YELLOWHEAD | 786 |
Posted in: Press Releases