Register to Vote
If your registration is up-to-date, you're ready to vote!
If your registration is out-of-date, or if you have recently moved or changed your name, you will need to re-register.
If you have not registered before, you can register now.
Register Now
---
Registered electors must be:
Future voters must be: 
Future voters are automatically added to the permanent register upon turning 18.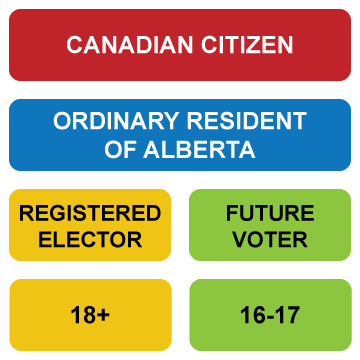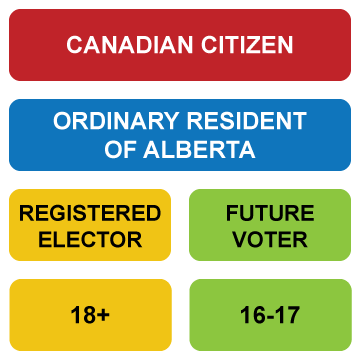 ---

You may also wish to register to vote in federal elections. To register with Elections Canada, please visit their site.
---
Alberta's Register of Electors
Information Collected
The following information is collected during the registration process:
Name – First, Middle and Last
Address – Residential Address and Mailing Address(if applicable) 
Citizenship
Birth Date
Gender (OPTIONAL) 
Telephone number (OPTIONAL) 
---
Use and Protection of Information
Data from the register of electors is used to produce the list of electors for each electoral division. The list of electors contains only a portion of the information stored in the Register:
Name – first, middle and last
Address – residential address and mailing address (if applicable)
Telephone number (if provided) 
The list of electors is used by election officers at voting locations to maintain the record of who has voted and to add new elector registrations. Access to list information is also available to:
Registered political parties
Candidates
Members of the Legislative Assembly, and
Electors who wish to see their information
Elections Alberta commits to protecting the privacy of registered electors. Any information we maintain is for electoral purposes only.
The law further limits how we distribute or use your information. Any information we share is subject to physical and electronic safeguards. We trace persons who attempt to misuse such information. Any misuse of information may result in fines up to $100,000, imprisonment for up to one year, or both.
---