ID Required To Vote
If you are registered to vote at your current address, you do not need to show ID. If you need to update your registration, you will need to prove your identity and current address with ID.
To do this, you may provide one piece of Government-issued, photo ID, including your full name, physical address, and photo. Otherwise, you need to show two pieces of ID, both containing your full name, and with one showing your current physical address. See what we accept below:
---
One Piece of Identification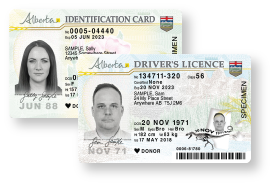 Your Alberta Driver's Licence or Identification Card can be shown as one piece of ID, if it has your full legal name and current physical address.
If your Driver's Licence or Identification Card does not have your current address, or only contains a mailing address (e.g. PO Box), you may use it as one piece of ID, in combination with another piece of ID showing your current physical address.
---
Two Pieces of Identification
When showing two pieces of ID, ensure that both contain your full name and that one piece shows your current physical address.
---
Vouching
If you are unable to provide any identification, or cannot confirm your current physical address, you can be vouched for by another registered elector in your polling subdivision.
---
Attestation
We can also establish your identity through an attestation.
In the specific instances shown below, the attestation form is used in lieu of having a vouching elector physically present. However, the authorized signatory holds a position of authority that ensures the named elector can be confirmed as eligible.
| Specific Group | Authorized Signatory |
| --- | --- |
| Elector Living in Supportive Living or Long-Term Care | Facility Operator or Manager, Recreation Director or Manager, Registered Nurse |
| Elector on Colony | Colony Manager, Colony Minister |
| Elector on Reserve or Settlement | Chief, Band Manager, or Membership Coordinator; Settlement Chair or Administrator |
| Homeless Elector | Shelter or Housing Administrator (who has strong familiarity with regular clientele) |
| Student Elector | Registrar Officer, Student Association Executives, Student Residence Coordinators |
| Tenant Elector | Titled Land Owner, Lessor, On-Site Caretaker, Third-Party Management Administrator |
Authorized persons are known to Elections Alberta in advance. For more information on the use of attestations, or to request to become a signatory, please contact us. 
---
To see a complete list of acceptable identification types, click here.
---