Alberta's Provincial Enumeration
August 22, 2018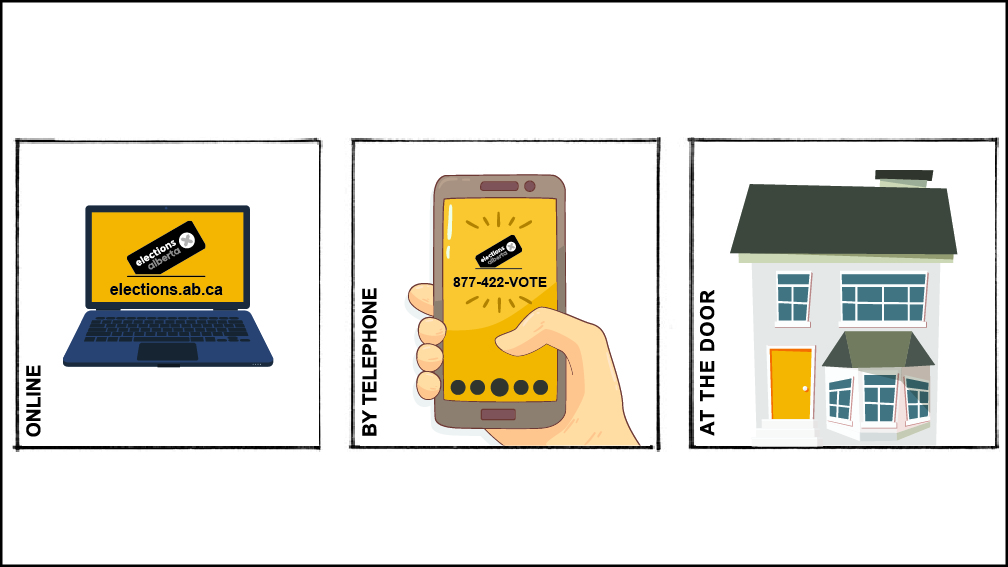 EDMONTON – Alberta's Provincial Enumeration is underway, with just 2 weeks left for Albertan's to register to vote by confirming or providing their information to Elections Alberta before door-to-door visits commence on September 8, 2018.
Information is being collected on all electors, who are residents of Alberta that are 18 years of age or older and Canadian citizens, to ensure that they are on the list of electors that will be used for the 2019 Provincial General Election. When the election is called, Albertans who are on the list of electors will be mailed personalized information about when and where to vote, and will receive faster service at the polls.
Chief Electoral Officer, Glen Resler, also announced that for the first time, information on 16 and 17 year olds will also be collected, so that they can be added to the list of electors when they turn 18, simplifying the process of getting them on the voters list.
Registering to vote can be completed right now through a self-service process online or by contacting the Elections Alberta Call Centre at 1-877-422-VOTE (8683). The online process requires an Alberta Driver's License or Identification Card to authenticate the identity of the elector. No identification is required when registering with the Call Centre. The Call Centre is open Monday through Friday from 8:15 am to 8 pm and Saturday and Sunday from 10 am to 4 pm.
Starting September 8, 2018, enumerators will be coming door-to-door throughout the province to collect information from any household that has not yet registered online or through the Call Centre. Elections Alberta is employing over 7,000 Albertan's to complete all the door-to-door visits between September 8 and 30, 2018.
Chief Electoral Officer, Glen Resler, encourages all electors to choose one of the three methods of registering to vote to make sure they are on the list. "Even if you have voted previously, we need to verify that the information that we have is still current", said Resler.
For more information about the provincial enumeration, visit www.elections.ab.ca, call toll free at 1-877-422-VOTE (8683), join us on Facebook or follow us on Twitter.
Elections Alberta is an independent non-partisan office of the Legislative Assembly responsible for administering provincial enumerations, elections, by-elections and referenda.
For media inquiries, please contact:
Pamela Renwick
Director, Operations and Communications
Suite 100, 11510 Kingsway NW
Edmonton, Alberta T5G 2Y5
Posted in: Uncategorized